A few mornings ago, I was sitting at our kitchen table eating breakfast with my family. As we eat and talked, I looked out through the sliding glass door toward the bird feeders we have hanging out there. This time of year, our feeders get some pretty good activity. As I watched, the usual House Finches, White-crowned Sparrows, Golden-crowned Sparrows (a lot of them this winter), and Mourning Doves were poking around eating sunflower seeds.
But then something amazing happened! A bird hooped up to the top of the wall that defines one side of our yard. This bird was new. This bird was slightly smaller than the White-crowned Sparrows (which are themselves slightly smaller than the Golden-crowned Sparrows). This bird had a clear, white triangular patch at its throat. This bird was a White-throated Sparrow!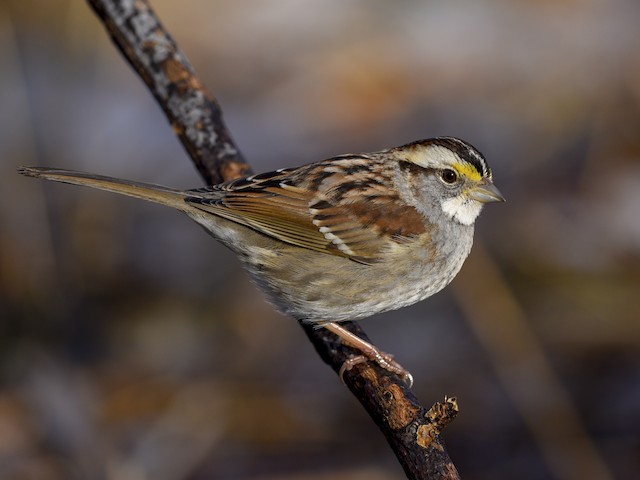 White-throated Sparrows (Zonotrichia ablicollis) are a mostly eastern species. A spattering spend their winters on the west coast, but not many and finding one is always a real treat. This is the first White-throated Sparrow I have ever seen in our yard making the 75th bird species to be added to the yard list!
This species has a bunch traits that make it a bit odd and very interesting. One is the there are two different color morphs, one with white stripes on the head, and other has tan stripes. A related oddity is how these color morphs (which are genetically determined) are maintained in the population. Males of both morph prefer females that have white stripes, but females of both morphs prefer males with tan stripes. A final oddity is that White-throated Sparrows sometimes breed with Dark-eyed Juncos! The two species are not particularly closely related, nor do they look or sound alike. I have never seen one of these hybrids, but I really want to.
Like I said, a really odd and interesting bird, my favorite member of the genus, and a very exciting visitor!